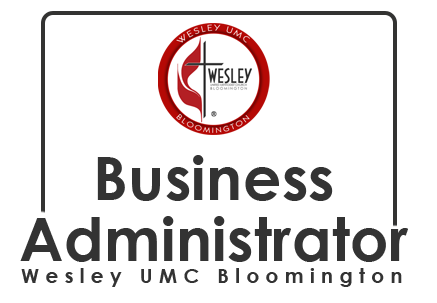 Job Opening: Business Administrator
Wesley United Methodist Church is seeking a capable person to fill the position of Business Administrator. This position is full-time working in the Church office and includes benefits. The Business administrator handles a wide variety of responsibilities on behalf of the Church, requiring knowledge of fund accounting, finance, and budgeting. Experience with non-profit organizations is desirable but not required.
To apply, submit a Resume/CV and Cover letter to Myrna Simpson at msimpson@wesley-umc.com. Applications will be accepted through October 29, 2021. The anticipated start date for this position is December 1, 2021.
The job description is as follows:
Objective: The Business Administrator performs all duties and responsibilities in a manner that is supportive of the Church's ongoing mission of nurturing disciples for Christ and the annual goals and objectives established by the Administrative Council.
Summary: The Business Administrator manages the overall business aspects of the Church with an emphasis on financial management, record keeping, and payroll.
Duties and Responsibilities
1. Manage all aspects of payroll, including bi-weekly processing of payroll for Wesley and Wesley's Bright Beginnings staff, prepare and file quarterly payroll tax reports and annual W-2 and 1099 forms. Prepare annual wage report for Workers Comp policy.
2. Maintain all personnel files, assist with decision making regarding benefits, track benefit use, calculate and collect employee portion of insurance premiums, and assist the SPRC as needed with personnel policies and issues, including recommending changes or needs.
3. Handle all account payable duties, including weekly processing of invoices, obtaining approval for payments and monitoring receipt of goods, maintaining files of paid invoices, researching questionable bills, and assuring budgetary compliance.
4. Handle cash management, including daily tracking of cash available in various funds and accounts, requesting transfer of funds as needed, and informing Finance Committee of cash needs.
5. Record pledges and contributions received, including stock and grain donations. Enter pledges annually for General Fund and UMW Fund, and as needed for special campaigns. Record contributions for money received in weekly offering and electronically, and issue quarterly statements to contributors. Work with Finance and Stewardship Committees regarding follow up on campaigns.
6. Analyze reports to establish pledging and giving patterns, report trends to Finance Committee and offer giving solution, keeping abreast of industry standards.
7. Prepare deposits for Music, Youth and Education ministries and any other income received for Church business other than contributions.
8. Prepare monthly financial statements, including preparing journal entries, balancing bank statements, reconciling balance sheet accounts to sub-ledgers, printing financial statements, and distributing copies to various committees.
9. Serve as key staff resource person, using prepared financial information in monthly meetings with the Finance Committee and the Board of Trustees. Meet as needed with SPRC, Administrative Council, Stewardship Committee, Investment Committee and other committees concerning financial issues.
10. Oversee the budgeting process, including such activities as: scheduling and coordinating the timeline for the annual operating budget in conjunction with Finance Committee and Stewardship Committee, preparing forms for various committees and staff to complete, compiling information submitted into final budget format, discussing necessary changes with various committee individuals, overseeing development of the final budget, entering budget figures on the computer for financial statement comparison, and educating new staff and committee chairs on budget issues and format.
11. Stay current with technology needs, staff computers and programs utilized; work with tech company retained by Church
12. Human recourses (HR) responsibilities:
· Keep aware of current and changing laws/regulations
· Act as conduit for hiring (collect and distribute resumes, etc.)
13. Other administrative duties:
· Oversee purchasing of office equipment and supplies.
· Develop and maintain system of record keeping for the past years financial records.
· Review, at least annually, insurance coverage for property and liability and recommend any necessary changes to the Trustees. Report and process insurance claims as needed.
· Oversee annual financial review or audit as determined by the Finance Committee.
· Compile and submit financial portion of required quarterly and annual reports to Conference office.
· Maintain various licenses required by the Church, such as CCLI, CVLI, worship streaming licenses, etc.
· Prepare recommendations for financial issues such as funeral meal costs, Wednesday meal prices, etc.
· Assist with finances during annual rummage sale, including making periodic bank deposits on day of sale.
· Attend training as necessary and allowed by the budget. Maintain membership with The Church Network and support agreement with Church Windows (accounting software company).
· Back-up for other staff as needed.
Qualifications, Skills, Abilities and Education Requirements
Education Level: Bachelor's degree in business-related field (i.e. accounting, finance)
Essential:
· Strong administrative and organization skills
· Effective verbal and written communications skills
· Ability to work effectively and independently with all levels with the Church
· Exhibit professionalism in all working relationships with the staff and with external community contacts
· Possess strong supervisor abilities
Desirable:
· Strong interest in participating in continuing education opportunities when available through Church budgeting or other self-improvement programs
· Ability to multi-task and prioritize workload in an office environment of daily challenges and interruptions
Computer or special equipment knowledge:
· Computer and special software
· Calculator
· Copier
· Folding machine
Additional Note: This job description in no way states or implies that these are the only duties to be performed by the employee occupying this position.