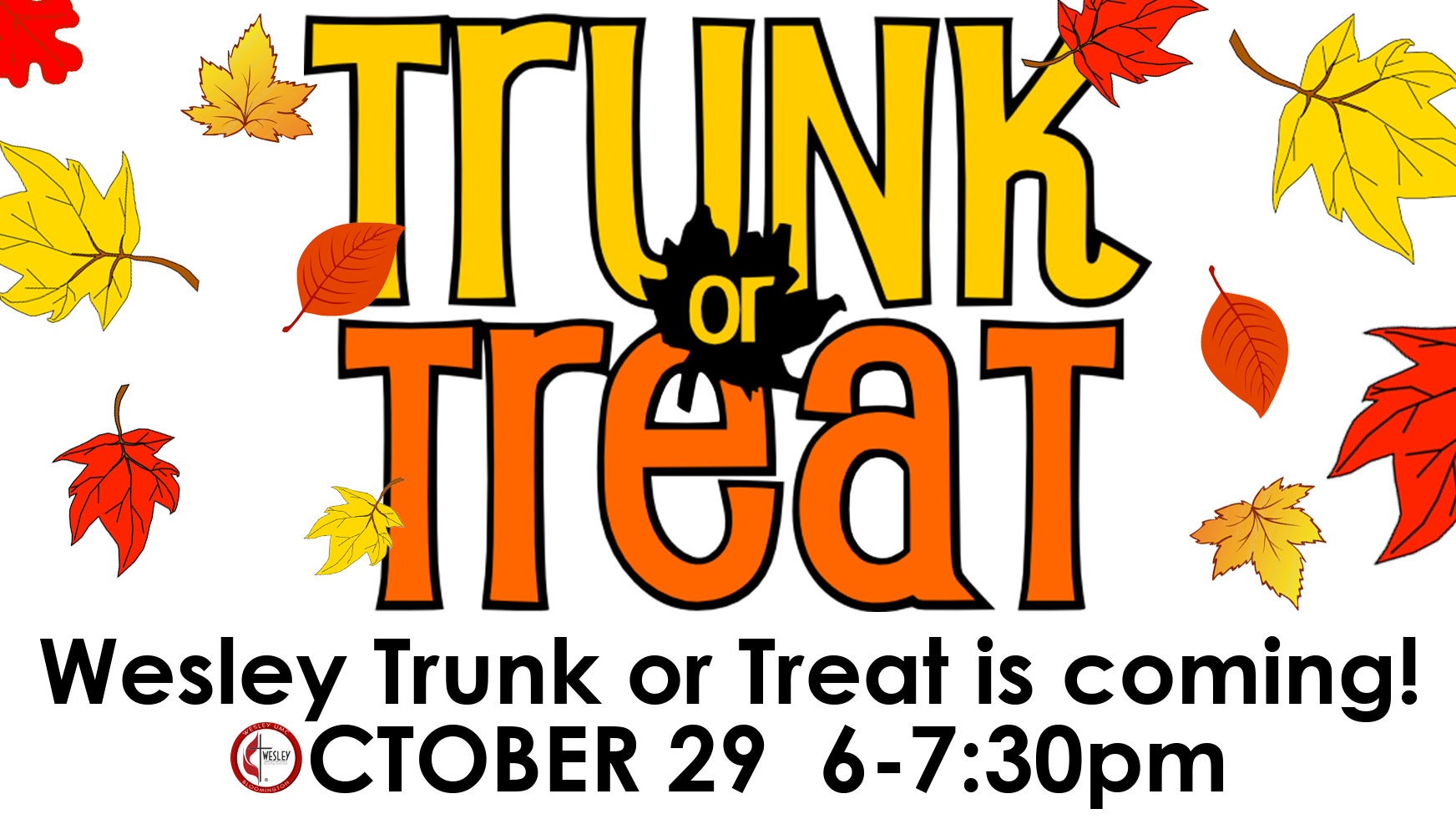 Trunk or Treat will be held in the East Parking lot here at Wesley on October 29th from 6:00 PM to 7:30 PM. Bring the family and show off your best halloween costume! There will be candy and games.
We will begin at 6:00 in Wesley's main lot.
We will NOT have the gathering in the building part this year, but I will include a curriculum piece in the bags I will distribute as the end car.
If you would like to bring your vehicle and host a parking space(s), please contact Kathi Pritts. 
YOUR cars (if you choose to do that part this year) will be games on the path thru the parking lot that kids can play from the car. KIDS WILL NOT GET OUT OF VEHICLES THIS YEAR UNLESS YOU ARE A GAME CAR, and the game can't be done from the car. IF YOU ARE PLANNING TO DECORATE A CAR plan to do that prior to 6 pm and let Kathi Pritts know. Please don't feel that it must be elaborate- look online there are lots of ideas and many are VERY simple. You can use things you already have to decorate or ask Kathi ASAP- Kathi has plenty of things you could borrow.
ANYONE CAN ADD CANDY THIS YEAR.
Please let me know if you want to be one of the decorated game cars.
So far, we have:
LOL circle car
Dick Tracy and his 1936 Coupe
A unicorn car (unless someone else wants to borrow my new rainbow unicorn head)
A Jingle Jam car to advertise this year's Jingle Jam
Ring toss game car
PuRpLE MonStEr Car
Minions car
THANK YOU EVERYONE AND HAPPY HOLIDAYS!!!