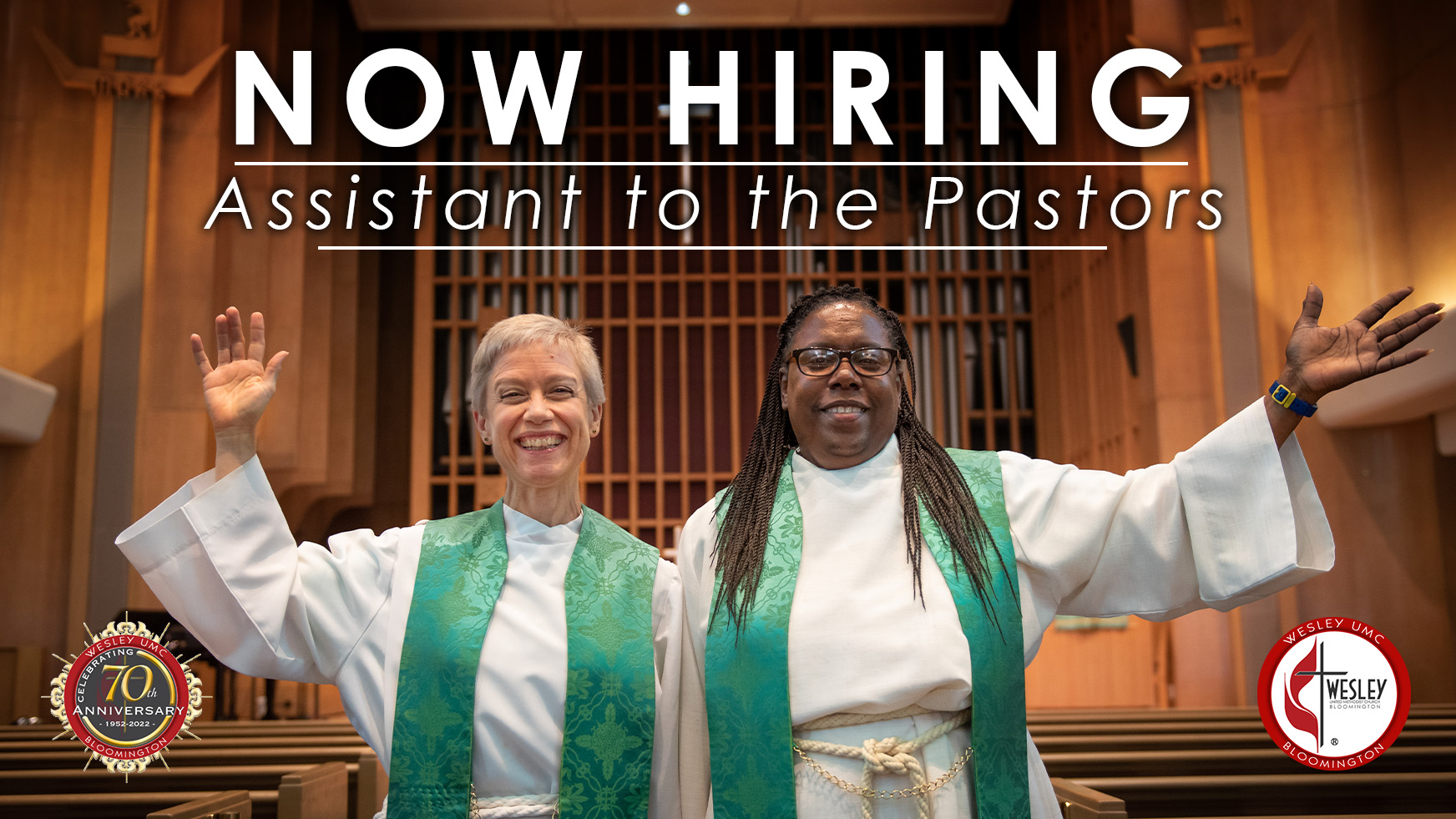 Part-time Assistant to the Pastors needed
Wesley United Methodist Church in Bloomington, Illinois is looking for a part-time (25 hours/week) Assistant to the Pastors. The Assistant works side-by-side with the pastors, handling day-to-day administrative duties involving a a wide variety of interpersonal and clerical skills.
At least 5 years as an Administrative Assistant and a High School degree or above is required. resume/CV and cover letter should be sent to msimpson@wesley-umc.com and must be received no later than Friday, Jan. 28, 2022.
Administrative Assistant to the Pastor
WESLEY UNITED METHODIST CHURCH
Bloomington, IL 61701
Job details:
Job type:
Part-time
Number of openings for this position: 1
Schedule:
Monday to Friday
Day shift
Job description
Duties and Responsibilities
1. Attend weekly staff meetings, program staff meetings and worship planning committee meetings. Meet weekly with Directing Pastor for coordinating, planning and communication of these meetings. Send out agendas, meeting reminders and take minutes.
2. Coordinate, oversee, complete and submit Annual Church and Charge Conference reports (September).
3. Coordinate end-of-year conference reports.
4. Handle correspondence with District and Conference offices.
5. Be the Directing Pastor's buffer zone (e.g. weed out junk mail, screen and field phone calls, filter voicemails).
6. Prioritize Pastors' tasks, track deadlines and send reminders.
7. Manage and update email distribution lists and committee rosters in Pastors' Outlook.
8. Schedule Zoom calls (or similar), send notices and reminders to participants.
9. Maintain Pastors' schedules/calendar, make appointments, etc.
10. Schedule quarterly/monthly appointments between Pastors and their staff reports.
11. Register Pastors for events/conferences.
12. Assist Pastors with Jurisdictional and General Conference responsibilities.
13. Assist with New Member process (sessions held three times per year, with three classes per session).
Includes, but is not limited to:
Maintain list of attendees
14. Maintain membership records
15. Assist Pastor of Visitation with information regarding shut-ins and nursing home residents.
16. Help coordinate weekly worship bulletins.
17. Perform all other duties as assigned by the Pastors.
18. Attend training as necessary.
19. Provide back-up for other office staff as needed.
20. Create, maintain and purge own files. Qualifications, Skills, Abilities and Education Requirements
Education Level: At least 5 years as an Administrative Assistant and High School degree or above
Essential:
Desire to serve the Lord
Highly motivated, self-starting person committed to striving for excellence and integrity in responsibilities
Committed confidentiality
Ability to relate to all staff and volunteers in all areas
Ability to function as a team member and/or leader
Flexible and able to handle multiple tasks at the same time
Ability to organize and direct projects from start to finish
Strong problem-solving skills
Excellent people and phone skills
Excellent written and verbal communication skills
Strong organizational skills with ability to multitask and prioritize
Exhibit professional skills, appearance, and conduct
Enthusiasm, desire, energy, stamina, and personable attitude
Experience with currently utilized computer systems: Church Windows membership database, Word, Outlook, Excel, E-mail, Internet, etc.
Desirable:
Computer or Special Equipment Knowledge:
Word Processing
Current Desktop Publishing software
Printer
Copier
Smart Phone Additional
Note: This job description in no way states or implies that these are the only duties to be performed by the employee occupying this position.
Work Remotely: Not under typical circumstances
COVID-19 precautions:
Employees are required to wear a mask when in public indoor areas
Congregation is required to wear a mask when in public indoor areas
Expect to hire within 2 to 4 weeks