Special Guest: Cornelia Wieck
Mission Advocate for the North Central Jurisdiction of the UMC
Connie Wieck serves for the church in the USA as Mission Advocate for the North Central Jurisdiction (addendum service) and East Asia as an Amity Foundation Teacher.
About Me, Cornelia (Connie) Wieck
I'm Connie (Cornelia) Wieck (rhymes with "bike"), a Marshall, Illinois native, 57 years old and single. I hold a BA in English from Eastern Illinois University, and an MA in TESOL (Teaching English to Speakers of Other Languages) from Southern Illinois University. I've been with the United Methodist General Board of Global Ministries (UMGBGM) for 30 years as an English language teacher. Placements have been 3 years as a Mission Intern ( Kyoto YWCA in Japan and later the UM Board of Church and Society in Washington, D.C.), three years at Wesley Girl's High School in Taipei, Taiwan, 24 years in East Asia as an Amity Foundation English teacher, and currently in America as the Mission Advocate for the North Central Jurisdiction. This last placement is an addendum to my church service as I wait to return to my Chinese college, which is not yet allowed to have foreign teachers return due to Covid. Open policies are now in effect as of June so my school should be able to soon submit the invitation letter so I can begin my visa application. Pray for that!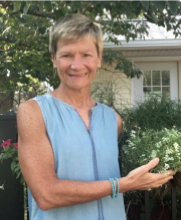 The Amity Foundation (a United Methodist advance special) is a Chinese organization started by the initiative of Chinese Christians in 1985. It works in all areas of development for the Chinese people and Chinese Christians. Programs include rural development, health care, church-initiated projects, blindness prevention and education. I work in Amity's education division as a college English language teacher in the developing areas of the country. My sending agency is the UMGBGM. I am currently the only long-term teacher Amity has in that country. Teachers with Amity are placed at Chinese teachers' colleges to improve the language and teaching methodology of students soon to enter the English teaching field. China now requires English language study from Grade 3 to high school, and also for colleges and universities, thus the great need for well-qualified English teachers.
My current teaching position is at Luzhou Vocational and Technical College, a 3-year college located in Luzhou (loo-joe) along the Yangtze River. I teach 1st, 2nd, and 3rd-year students who are English Education majors. My courses are teaching methodology, oral English, writing, and American culture. The 430 students I instruct will enter teaching after finishing their 3-year study.
As a member of the Christian faith, I freely attend Sunday services at the Luzhou Protestant church, even singing as a choir member. Despite what many believe, the Chinese Christian church is open to all. In my area of China, weekly services, Bible studies, laity training courses, and baptisms into the faith are held regularly without any interference from the government. I feel truly blessed to be able to attend my Chinese church and worship with Chinese Christians as a community member due to the strong commitment of faithful United Methodists, such as yourself, who give strong salary support to so many of us- thank you! Partnering together, we serve from everywhere to everywhere as God's people.
One of my favorite Bible verses is "Commit to the Lord whatever you do, and your plans will succeed." Proverbs 16:3.
Contact me!
Web: conneinchina.org
Mail: 710 Mulberry Street Marshall, IL 62441
email: corneliaw2000@hotmail.com; cwieck@umcmission.org
Cell: 217-921-4909
Blog: connieinchina.org
To my Faithful USA Followers, Supporting Churches in IGRC and UWF:
平安 (Ping-ahn), Peace!
I just received my quarterly notice of the generous giving in which so many have participated. Thirty-five of you gave amounts in December 2021 to close off my year by exceeding the Global Ministries' $25,000 ask per missionary year (Hallelujah!!). Another 14 started me on my way to reaching that $25,000 goal this year. Since January,
$15,116 has been given to my Advance, launching us well into our journey together for the first half of 2022. I'm looking forward to seeing more churches, UWF units, and individuals add to that in the coming months. What a moment of rejoicing that will be!
My East Asia Placement: Still waiting to return
As I continue in this addendum USA position (Mission Advocate for the North Central Jurisdiction), I keep close connections with "my" China: my school, students, Luzhou church choir, and the Amity Foundation concerning when bans will be lifted for my return. It has been a long wait, but there might be some windows of opportunity opening for visa applications in my city, Luzhou, this fall. That, of course, depends on Covid cases and if the Chinese government feels it's safe to have foreigners return. If not, I have been told January 2023 is a possibility.
A Few Quick Updates: Activities and Involvement
My following newsletter will feature several activities I've been excitedly participating in these past six months. Aside from my usual duties as Mission Advocate, here are my current highlights:
PLEASE CLICK HERE TO VIEW THE NEWSLETTER
A. Co-teaching with Angie Broncano, a missionary in Laos, to teach her college students via Zoom (5 a.m. for me; 7 p.m. for them, every Saturday).
B. Helping one of my former students in China, "Hazel" (class of 2007), record children's books for her classes.
C. Posting and recording the daily English prayer for my church choir members in China.
D. Connecting Confirmation classes via Zoom with missionaries (Myself to Christ UMC, Mountain Top, PA; Angie Broncano in Laos to Marshall First UMC, Marshall, Illinois)
E. Presenting via Zoom for nine different UWF units across the country.
F. Recording worship messages, mission moments, or prayers for those who have asked (My most surprising request for UWF Sunday, from Sister-in-Christ Myra at Mt. Vernon UMC in New York)
G. Visiting in person with churches and UWF circles within driving distance.
Concerning In-person Visits or Zoom Meetings
I am in Marshall, IL, living with my mother, Priscilla. Let me know if you are within driving distance (up to 5 hours). I am happy to give a presentation or attend your worship service with a message. Contact me, and I'll be there. I can also do recordings and send them your way for your virtual or in-person assistance. Just give me your topic, what you want, and the length of time, and I'll accommodate.
Closing with Gratitude
Thank you, thank you, thank you for your continued faithful support. Please stay in touch and let me know if you need anything from me as I wait to return to my overseas placement.
I'm willing and able, always excited to serve and connect with you whenever you need me. "Everything is possible for one who believes." Hebrews 11: 6
Connie Wieck
USA Position: Mission Advocate for the North Central Jurisdiction of the UMC
Overseas Placement: Amity Foundation English Teacher, East Asia
Contact Information
Website: connieinchina.org Emails: corneliaw2000@hotmail.com;
cwieck@umcmission.org
Address: 710 Mulberry Street
Cell: 217-921-4909
Connie's Advance # for further support: 10672Z
神的恩典, 祝福, 平安
(God's grace, blessings, and peace)