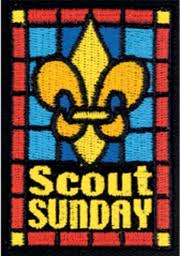 ATTENTION SCOUTS OF ALL AGES!
PAST AND PRESENT SCOUTS!
We invite you to join the Scout Sunday worship service and honor the tradition of participating with Wesley Church on Sunday, February 12th. Scouts are welcome to wear their full scout dress uniform or come casual. You are encouraged to participate but are certainly welcome to just watch. We will meet in the lobby at Wesley Church between 8:30 and 9:00 am for first service and again between 11:00 and 11:30 am for the second service. Come to one or come to both!
The United Methodist Church has designated the second Sunday in February as Scout Sunday. Local congregations are encouraged to observe Scout Sunday as specified or pick an alternate date close to it.
The observance allows churches to recognize the Boy Scout pack, troop, or crew they sponsor or the individual scouts within their church.
The Boy Scouts of America celebrated their 100 years of scouting in 2010.