Rummage Sale 2021
WESLEY UMC RUMMAGE SALE 2021
Click the button above to sign up and help with several different volunteer opportunities. We are currently in need of people to help with sales at the locations listed below. We are also still accepting donation items of value to sell at those same locations. If you or someone you know would like to spend a morning helping our community with Wesley UMC, please click and sign up! One of our friendly organizers will be in contact with you.
Are you ready to experience the future of garage sales hopping? GREAT! We have organized an eight-stop Wesley UMC Bloomington sponsored event that will take you through town to each of our sale locations. Just click on the button above and let us navigate you through this one-day event. Start any time after 8:am but this event only lasts until 2:pm so get in early and take advantage of all we have set up for you! Happy shopping!!
The Annual Wesley Rummage sale has a long-standing tradition of providing fellowship and much needed supplies for our community for many, many years. The sale has provided necessary funds for our ministries including the yearly youth choir tour, our Surge mission trips and UMW giving that supports global missions. We missed seeing you last year at the Interstate Center when we had to cancel the sale in 2020 due to the COVID pandemic.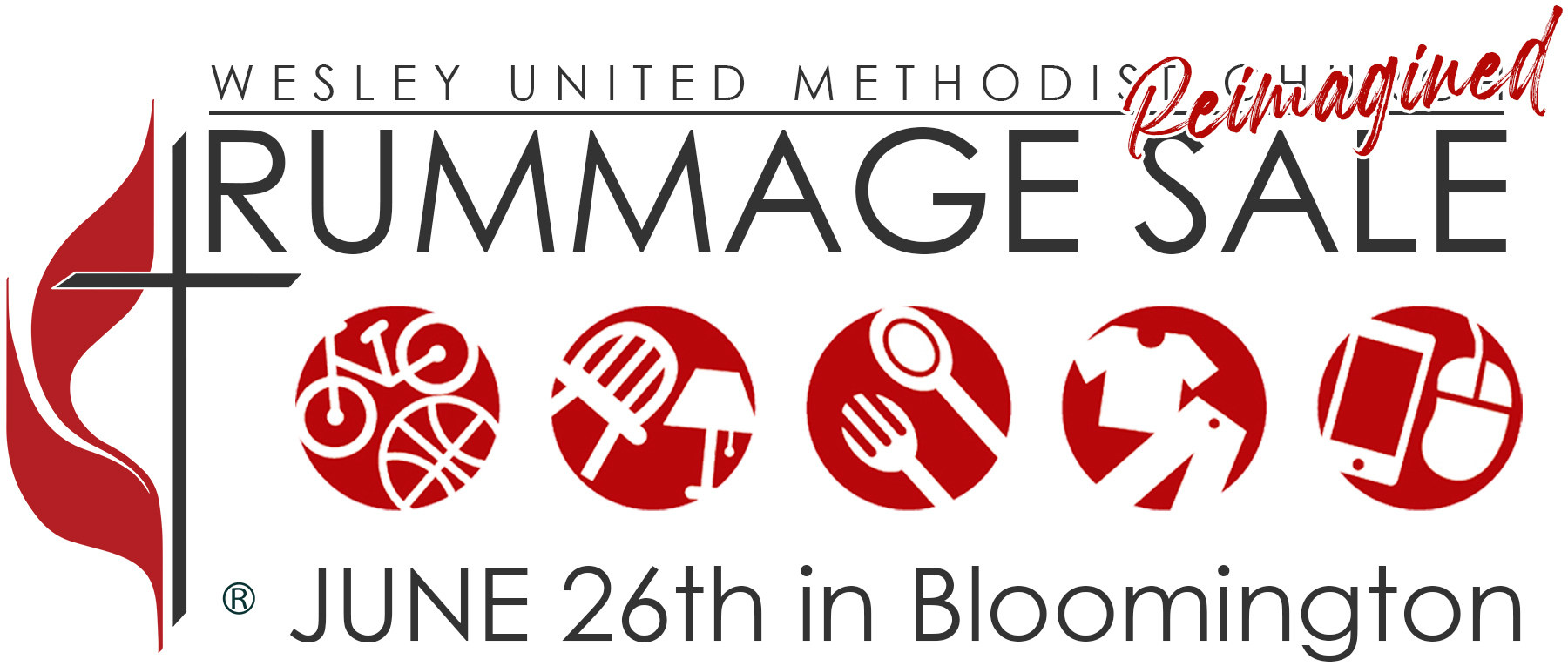 Rummage Sale: Reimagined will be held on Saturday June 26th from 8AM – 2PM This year we are asking Wesley congregation members to host garage sales at their homes in honor of our Rummage Sale.
We will still provide supplies and support for your sale in a "rummage sale kit" which will include price stickers, price sheets, a yard sign, envelopes with cash transmittal forms and a list of where other sales are happening that day. We will also have members of the Hidden Treasures and Jewelry Departments available the week of June 21st to help you price your special items (more information about this will be given later). In addition, you have the option to access church tables to help organize your sale. The rummage sale chairs team is here to help you as you help us raise money for our vital Wesley ministries.
We invite you to participate with us on June 26th OR host a sale at your convenience if that date doesn't work for you. Please let us know when you plan to host a sale and we will do our best to provide support and supplies to you as needed.
There are many easy ways to contribute to this annual event. Here's how you can help!
Offer your local space for us to host a sale, and allow our fellow Wesley family members to help manage the event for or with you

Help a friend or a neighbor with their sale!

Offer your creative energy to help a friend set up and/or take down their sale

Offer part of your day to help other congregation members price their items

Visit Wesley garage sales on the 26th and donate to help our community! 
There will be two garage sales at church on Saturday June 26th , one at Wesley West and one in the east parking lot of the church
• You may extend these hours or include more days, like Thursday and Friday
• You may choose to hold your garage sale on a different day, like during a neighborhood garage sale weekend
Items sold at the church include:
o Treasures
o Jewelry
o Items for the Rummage Sale that are currently being stored at the church
Drop off days and times:
Monday June 21st
10:00am-12:00pm
3:00pm-7:00pm
Tuesday June 22nd
10:00am-12:00pm
3:00pm-5:00pm
Wednesday June 23rd
10:00am-12:00pm
3:00pm-7:00pm
Thursday June 24th
10:00am-12:00pm
A member from Treasures and Jewelry or the Committee Chairs will be there to greet you and take your items. We will receive all Jewelry including broken silver and gold items.
• DO NOT bring your garage sale donations to the church unless they are items that can be sold in the Treasures and Jewelry departments
A celebration will be hosted at the church starting at 5:30PM on the June 26th after Rummage Sale: Reimagined is over. This celebration is our thank you to you for all of your help making this year's sale possible!
If you choose to host a sale, here is what you need to know:
Proceeds:
• As usual, proceeds from Rummage Sale: Reimagined will go to UMW Missions, Youth Choir Tour, and Surge Mission Trip Money
• You will need your own start up cash and your own cash box.
o Make sure to remove any start up cash from your proceeds before turning money in to the church
• Please accept cash/checks only. Checks should be made out to WUMC.
• Manila envelopes and Cash Transmittal forms (not required) to collect your money will be included in your Rummage Sale Kit
Pricing your items
• Pricing stickers will be made available for those who would like them (will be found in Rummage Sale Kit)
o Starting at 50 cents and going up to $20
• You may choose to have a donations only sale where you would not price need to anything!
Turning in your money:
• Drop off your proceeds Myrna Simpson at the church Monday July 28 – Thursday July 1st between 9AM and 3PM. She will count and deposit the money.
• You do not need to fill out a Cash Transmittal form or count your money before you turn it into Myrna, but you are more than welcome to.
• Myrna has kindly volunteered to visit each household participating in Rummage Sale: Reimagined on June 26th to collect any money you may wish to turn over to her.
o She will stop by during the late morning or early afternoon hours
o She will only stop at each residence one time Rummage Sale Kit, items included are:
• Price stickers (starting at 50 cents and going up to $20)
• Price sheets
• Manilla envelopes for collecting and turning in your profits
• Cash transmittal form if you would like to count your money before turning it in (not required)
• List of every residence that is participating in Rummage Sale: Reimagined
• List of organizations that will accept donations if you wish to donate your items that do not sell
• Signage displaying where the proceeds of your sale are being donated, what type of payment is being received at your sale
• Yard sign to designate your sale as participating in Rummage Sale: Reimagined
The church is also willing to loan out tables to congregation members who do not have any to use for their sale.
• Large rectangular tables
• Only 16 available, first come first served
• Keith Smith will deliver to you on Tuesday the 22nd
All proceeds from our reimagined
effort this year will go to the same causes as is tradition, benefitting the youth choir department, Surge youth ministry and UMW. After the sale this year, everyone who has participated will be invited to a special cook-out at the church at 5:30 on the evening of June 26th. Please know that we are committed to this event TOGETHER as a Wesley family and are excited to help you make a great sale happen in your neighborhood.
Please make plans to stay after church on April 25th for a short meeting about this year's sale plans (in the case of inclement weather we will meet via zoom at 12:30pm).
To become one of our Rummage Sale: Reimagined! Heros, please fill out the form found below. Please email Brenna Martin if you have any questions.

SIGN UP FORM FOR THE 2021 RUMMAGE SALE!