Angie Lee, Associate Minister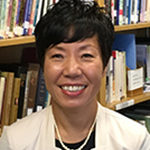 The Reverend Angie Lee was born and raised in Seoul, Korea. She is a graduate of Ewha Women's University (Bachelor of Science in Mathematics Education and Master of Arts in Old Testament Theology) in Seoul. She also received her Masters of Divinity in 2004 from United Theological Seminary in Dayton, Ohio. Pastor Lee was ordained as an elder in the Illinois Great Rivers Conference in 2009.
Pastor Lee has served in several posts since receiving her Masters of Divinity degree. She has served as Chaplain at the Lebanon Otterbein Retirement Community in Ohio, as well as Effingham Centenary United Methodist and Coulterville United Methodist Church, both in Illinois. Most recently Pastor Lee has served as the sole pastor for Urbana First United Methodist Church. She has served in Urbana since 2012.
She is married to S. J. Lee, who is an auto mechanic. Together, they have two children. Christine is a graduate student at New York University and Alex attends Illinois State University. Their family's favorite hobby is traveling. In seeing the beauty of nature and meeting people, they are in awe of God's creation and His work among people. In her spare time, Pastor Angie enjoys exercise, such as yoga and going to the gym, as well as playing the piano and guitar.