Youth Choirs
Jubilation Choir (Junior High & High School)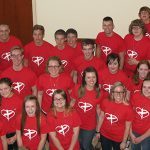 Jubilation Youth Choir (junior high and high school students)
Jubilation Youth Choir is the vocal choir for students in junior high and high school. The choir meets on Sunday afternoons from 4:30-5:30pm in the Choir Room. Jubilation sings in worship once a month as well as special occasions and in the community. Jubilation, along with Exaltation, and Celebration Ringers, take an annual Choir Tour where they present the good news and love of Christ to various places across the country. They sing a variety of contemporary Christian and sacred music. Jubilation is under the direction of Director of Music Ministry, Brenna Martin. For more information, please contact Brenna Martin
Exaltation Choir (High School/College)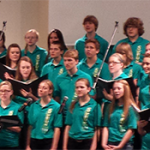 Exaltation is taking a break and will hopefully resume in the late fall of 2021. When they return, Exaltation will start by meeting every other Sunday at 2:30-3:30pm in the Choir Room. The group will sing once a month in worship services and for special events at the church and in the community. Exaltation also accompanies Jubilation each year on their annual Choir Tour. Exaltation is under the direction of Director of Music Ministry, Brenna Martin. Please contact Brenna for more information.
Celebration (Junior High & High School)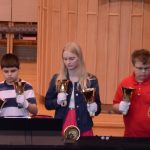 Celebration Ringers is a handbell choir for students in junior high and high school. They ring monthly in worship in addition to ringing at outside community events. The choir is an opportunity to learn handbell techniques and offers a creative addition or alternative to the choral experience. Celebration Ringers rehearse on Sunday afternoons from 3:30-4:30pm in the Chapel. Celebration Ringers are also part of the annual Choir Tour! Celebration is under the direction of Gail Welk. For more information about Celebration, please contact Gail Gail Welk.
Bells of Adoration (high school students)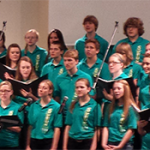 Bells of Adoration is taking a break and will hopefully resume in the late fall of 2021. When they return, Bells of Adoration n will start by meeting every other Sunday at 2:30-3:30pm in the Chapel. The group will ring once a month in worship services and for special events at the church and in the community.  Bells of Adoration is under the direction of Gail Welk. For more information, please contact Gail Welk