Kathi Pritts, Director of Christian Education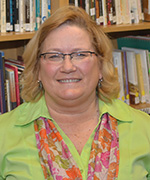 Kathi is a native of Chicago and has a Masters degree in psychology from Illinois State University and seminary training from Lincoln Christian College and Seminary in Lincoln and an undergraduate degree from Illinois Wesleyan University.  She served in Children's Ministry, Adult Education, and Youth Ministry at St. John's Lutheran Church in Bloomington before coming to Wesley in 2003.
Kathi has served on conference Christian education teams, education committees and task forces and worked with area organizations and churches on evangelism efforts, peace camps and children's ministry events.
Kathi is married to Gary Pritts, who currently owns and operates J & G Integrity Builders.  Together they have two children, Cameo and Caleb.  Kathi enjoys art, reading, tennis, racquetball, garage sales and children.