Children's Church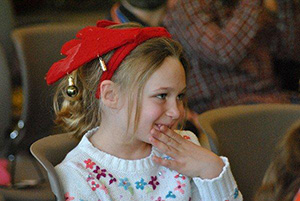 An age appropriate lesson (puppets, movies, games, crafts, snacks, and various sensory activities) based on the virtue and Bible story that is being taught in Sunday school for children ages 4 - 8 years old. Children hear a consistent message all morning.  Older children may join in and assist.
The children start in the main worship service in the Sanctuary and leave after the children's time at the 9:00 AM and 11:15 AM services. After the 9:00 AM Children's Church the children will be taken directly to Sunday School/WISE (Wesley Intergenerational Sunday Experience) in Wesley Hall or stations in the Sunday School open area or preschool Sunday School if they are 4.
Parents and family members are welcome to join in the fun and learning in WISE large group or small group. After the 11:15 AM Children's Church, children need to be picked up by their parents in room #28 downstairs as soon as the service is concluded.
If you would like additional information or have questions about Children's Church, please contact Kathi Pritts, kpritts@wesley-umc.com or 309-827-8046.